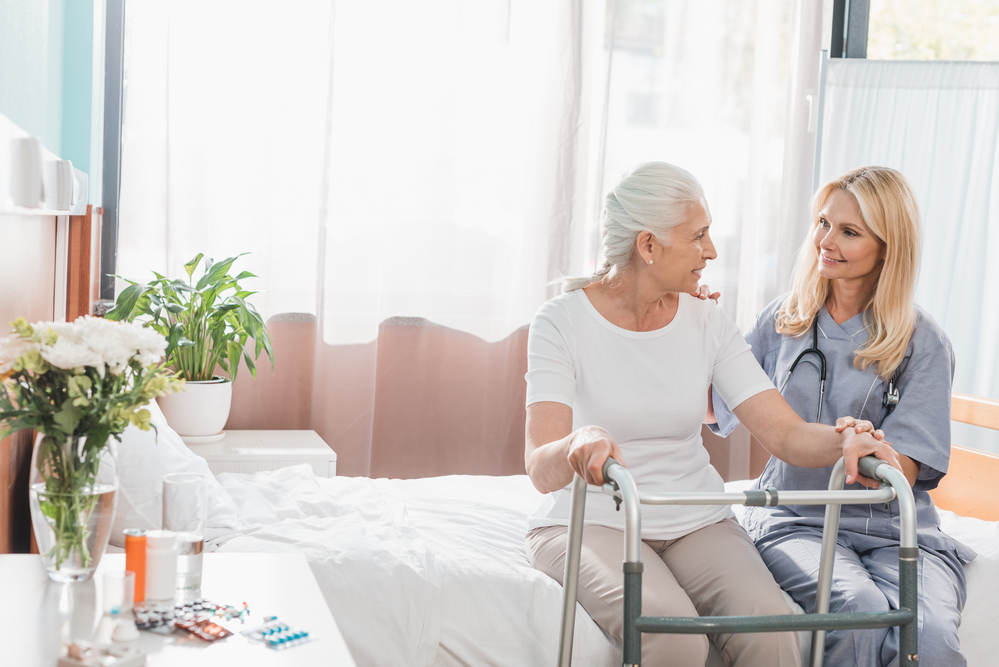 Original Medicare coverage for patients in longterm care facilities can be challenging to sort through regarding the purchase of Durable Medical Equipment (DME) items. We're here to help! In this article, you will discover who is eligible, which items are covered, and what to do if the patient has a Medicare Advantage Plan.

The First 100 Days
Nursing homes and longterm care facilities are able to provide for a large number of patient needs. However, when patients require the use of an item that is not offered by the care facility or the patient is transitioning to a new facility, the first question to ask is how long the item will be needed. For up to 100 days, Medicare Part A will cover your patient's DME claims with Original Medicare. During this time, patients may rent or buy DME equipment. It is important to note you must be able to show documentation from the patient's doctor explaining the DME item is necessary to improve the patient's quality of life in order to avoid rejected or denied claims. Also, all DME items that are covered are expected to last at least three years and should not be used for non-medical purposes. In other words, Medicare expects the equipment to in fact be durable and only used as intended by the patient.
After 100 Days
If the DME item will be used past the first 100 days, the main question you should ask if the patient plans to reside at the nursing home or senior living center as a primary residency. For patients who have transitioned to a longterm care facility, documentation showing the care facility will be unable to provide the item and that DME item is still required by the patient as noted by the patient's doctor. Items such as a continuous passive motion (CPM) machine that the doctor deems only necessary for the first 100 days will no longer be covered.
DME Items Covered by Original Medicare
Pressure Reducing Beds
Hospital Beds
Mattresses
Mattress Overlays
Sleep Apnea and Continuous Positive Airway Pressure (CPAP) Devices and Accessories
Traction Equipment
Blood Sugar Monitors
Blood sugar (glucose) test strips
Nebulizers
Nebulizer Medications
Oxygen Equipment and Accessories
Suction Pumps
Infusion Pumps and Supplies
Patient Lifts to assist with standing, sitting, or lying down
Commode Chairs
Continuous Passive Motion (CPM) machines
Canes (except white canes for the blind)
Crutches
Walkers
Manual Wheelchairs
Power Mobility Devices
What Items are Not Covered?
Common medical items used at home are not typically covered by Medicare. This includes first aid items like bandaids, gauze, and similar everyday medical care needs that are low in cost and readily available. Such items should be billed to the patient.
What if My Patient has a Medicare Advantage Plan?
If you do not have Original Medicare, contact your provider ASAP and request "utilization management". This term applies to the process Medicare uses to ensure the item is necessary, durable, and will be used appropriately as intended. If approved, restrictions may apply that should be noted and discussed with the patient.
Can a Patient Use Any Supplier?
Medicare will only cover DME items sold by enrolled suppliers. They must be meet certain guidelines and be approved by Medicare. All suppliers will have a subscriber number that will be required for the claim submission.
Natural Disaster Exceptions
For patients living in an area that has been declared a national disaster-impacted area by the government, there are some allowable exceptions to the Medicare restrictions. Temporary aid may be afforded to patients who have lost their DME items or whose equipment was destroyed or severely damaged during the disaster. Medicare may have limitations on coverage, physician database, physician fees, suppliers, and location, depending on the event and exception allowance regulations.
In conclusion, Medicare can be helpful for patients in need of expensive durable medical equipment at home as long as they meet the requirements for purchasing or renting the items. For billing purposes, it is advisable to become familiar with the Medicare website DME guidelines and claims submission format. Have questions? We're here to help! Let our experienced team assist you with such services as consultations, coding, payment posting, credentialing, audits, or AR and rejection management. Use our contact form online to tell us about your billing concerns and find out how affordable and effortless it is to work with Barbara's Billing and Consulting team. We only work with DME and HME billing, so your payments will be timely and correct leaving you to spend more time doing what you love!